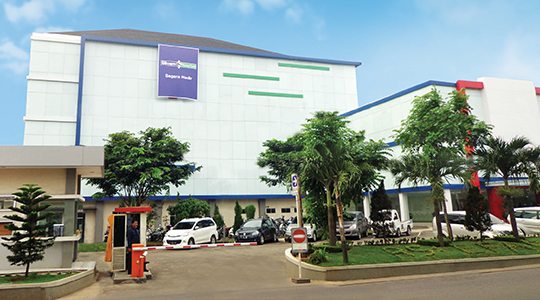 A 3-storey and 5-storey adjoining hospital building located in the fast growing city of Purwakarta in West Java, between Jakarta and Bandung.
Located in a prime location in Purwakarta, Jalan Raya Bungursari, which is a busy main road and is easily accessible by the neighbourhood.
Serves a population of almost 1 million and is well-positioned to cater to the burgeoning middle income groups in the residential and industrial areas of the city.
Strategically located in between Jakarta and Bandung, accessible via the Purwakarta-Bandung highway, offering convenience to residents from Indramayu and Subang.
Provides international quality healthcare with state-of-the-art technology including a 64-slice dual source CT Scanner, X-Ray machine with Fluoroscopy and C-Arm.
Well-structured medical practice protocols (based on JCI accreditation protocols).