Key Management

Mr Tan Kok Mian, Victor
Executive Director and Chief Executive Officer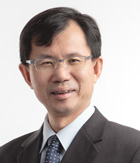 Mr Tan Kok Mian, Victor joined Bowsprit in April 2008 as Senior Finance Manager, and was responsible for its financial operations. He was the Chief Financial Officer from July 2008 and in 2017, he was appointed as the Executive Director and Chief Executive Officer.
Prior to joining Bowsprit, Mr Tan worked at Parkway Holdings Limited from 1997 to 2008. He joined them as an Accountant in 1997 and was promoted to the position of Group Accountant and subsequently to Financial Controller. His scope of work in Parkway included supervising the preparation of the financial accounts and handling accounting matters for the holding company as well as some of the subsidiary companies within Parkway Group. During his tenure, he also assisted Parkway's Chief Financial Officer in the preparation of the consolidated accounts for the Parkway Group.
Mr Tan graduated in 1997 with the professional qualification from the Association of Chartered Certified Accountants (ACCA).
Mr Chan Seng Leong, Jacky
Senior Asset and Investment Manager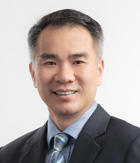 Mr Chan Seng Leong, Jacky graduated from the National University of Singapore in 1993 with a Bachelor of Science (Estate Management) (2nd Class Upper Honours) degree and subsequently in 1999 with a Master of Science (Real Estate) degree. In 2002, he obtained a Master in Business Administration degree from the University of Western Australia, Graduate School of Management, Perth, majoring in finance, and was awarded the Director's Letter for scoring full distinctions in the course. Being a member of the Singapore Institute of Surveyors and Valuers as well as a Licensed Appraiser (Lands & Buildings), Mr Chan has extensive real estate and property experience in Singapore, Hong Kong and the People's Republic of China.
From 1993 to 1998, his work responsibilities involved, among others, property valuations, property sales and marketing, property consulting, real estate research and feasibility studies. In 1998, he joined Chesterton International Property Consultants Pte Ltd as Assistant Manager (Valuations) and was subsequently promoted in rank and file to Executive Director (Valuations & Investment Advisory) where he performed valuations totalling more than S$1 billion worth of real estate in Singapore and regionally, and advised in real estate transactions worth more than S$600 million in total. His scope of responsibilities then included managing and advising real estate transactions, providing real estate market advisory and real estate financial advice, as well as managing key clients' accounts for strategic real estate services. Prior to joining the Manager, Mr Chan was with Ascendas-MGM Funds Management Ltd since early 2005 as the Investment Manager for Ascendas Real Estate Investment Trust. As Investment Manager, he was involved in spearheading multimillion dollar real estate acquisitions, structuring property investment and development deals (such as sale and leaseback, built-to suit and partial headlease), conducting property due diligence, as well as the planning and implementation of leasing and asset enhancement strategies to improve efficiency.